RMH Installation Instructions are second to none in this business! Our staff pioneered the use of CAD (computer) generated drawings in the early "80's" with the use of 3-dimensional artwork. This expertise has appeared in various Construction Equipment and CAD magazines for this type of work in the construction/computer cad industry.
We continue to improve and stay a step ahead of our competition on the quality and clarity of our Installation Instructions.
Click on the diagrams below to see enlarged versions.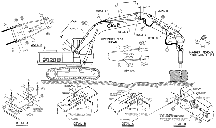 Note: these are example diagrams -- Not working models